I can't say enough good things about Dr. Gupta and his team. As a healthcare worker, I strongly feel that, when looking for a good surgeon, you should always ask the surgical nurses who to go to. The nurses I work with all said that Dr. Gupta would be their first choice for a plastic surgeon.
Mastectomy with Implant Based Reconstruction
What Is Implant Based Breast Reconstruction?
Breast reconstruction after a mastectomy is often a multi staged process. The most common course includes placement of either an implant or a temporary device called a tissue expander at the time of your mastectomy.
You will discuss with your general surgeon as well as Dr. Gupta to determine what surgical plan is best for you. Depending on the stage of your cancer your General surgeon my recommend breast conserving therapy, such a lumpectomy or to remove the entire breast, such as a mastectomy.
You should not smoke. Smoking increases the chances of wound healing complications such as skin death. If you currently smoke, it may be recommended to undergo delayed reconstruction in which you will have your mastectomy only, then 2-3 months later you will begin the reconstruction process.

The most common causes for complications after your mastectomy include: obesity, smoking, history of prior radiation therapy & diabetes.
Undergoing a mastectomy is a very stressful experience for patients; we aim to make the process as streamline as possible. The flow chart below outlines the most common path that patients take. We will sit down with you and discuss each surgery in detail. This is a general idea of what to expect:
Stage 1
Stage 2
Stage 3
Stage 4
Stage 5
Stage 1
Mastectomy & Reconstruction
Your mastectomy will be scheduled with your General Surgeon and Dr. Gupta.
A special camera will be used at the time of surgery after your mastectomy to assess the blood supply to the remaining breast skin, depending on those results a decision will be made to either:

Place an implant
Place a tissue expander
No reconstruction is performed at this time

If an implant or tissue expander is placed, it will be placed OVER the pectoralis muscle.

The tissue expander is like a deflated implant. It has a special port which will allow fluid to be gradually inflated during office visits.

You will spend 1 night in the hospital – one of your doctors will see you prior to sending you home.
Down time 3-4 weeks.
Stage 2
Tissue Expansion
Begins 2-3 weeks after your mastectomy.
You will come in for weekly visits to see our Medical Assistants (MA) for tissue expansion.

There is a port inside tissue expander. The port will be located using a special magnet. The area of skin will be cleaned and using a small needle the appropriate volume will be injected.
Many patients do not feel any pain during this procedure. After the mastectomy is performed the skin over the breast is usually numb.
Once the desired size is achieved, you will be scheduled for a consultation with Dr. Gupta or PA-C to discuss the next phase of reconstruction.
The next surgery will be scheduled in 6-8 weeks from the last expansion and at least 3-4 months after your mastectomy.
Chemotherapy (if indicated by your oncologist)

Expansion can occur at the same time as chemotherapy.

Radiation therapy (if indicated by your oncologist)

It is preferred to have achieved full expansion prior to radiation therapy because radiation causes damage to the skin making it very difficult to stretch later on.
Stage 3
Implant Exchange
This is an outpatient surgery; you will go home the same day.
The most common type of implants for reconstruction are silicone textured "teardrop" or anatomical shaped implants. They tend to look and feel the most natural. We also have the option to use silicone smooth round implants. We will discuss which implant type is best for you.
The implants well settle into their final position over the next 3-4 months.
** Other options are available to reconstruct the breast using your own tissue, instead of implants. These are more invasive procedures and typically reserved for special circumstances. Typical procedures involved in that category include TRAM flap, Latissimus flap, DIEP flap and SGAP flap
Stage 4
Fat grafting & Revisions
Fat grafting

Since all the breast tissue is removed during mastectomy, patients often experience rippling at the top of their implants or a noticeable "drop off" between the chest wall and the implant.
Fat can be harvested from other areas of the body using liposuction. The fat is cleaned and processed and then the fat can be injected in the areas lacking volume.
This is an outpatient surgery.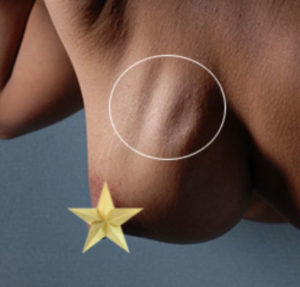 Revisions

At the time of fat grafting if there is noticeable asymmetry in the breasts surgical revisions can be made.
Remember that Dr. Gupta will do his very best to achieve symmetry at the time of implant exchange it is not uncommon for revision to be desired.
Stage 5
Nipple reconstruction
This is an in-office procedure, typically takes 30 minutes (per side)

Marks are made on the skin in the desired position of the nipple. Small incisions are made allowing for the skin to be lifted and the nipple to be constructed. Dissolvable sutures will be used.
Areola tattoo can be scheduled ~2 months after nipple reconstruction.
Depends on exactly what procedure is being performed, the mastectomy tends to have the longest recover of 4-6 weeks, while subsequent surgeries have quicker recoveries ranging from 2-4 weeks.
Before each surgery we will discuss with you at length what you can expect before, during and after your procedure.
Schedule a consultation and discuss the surgery in more detail