I can't say enough good things about Dr. Gupta and his team. As a healthcare worker, I strongly feel that, when looking for a good surgeon, you should always ask the surgical nurses who to go to. The nurses I work with all said that Dr. Gupta would be their first choice for a plastic surgeon.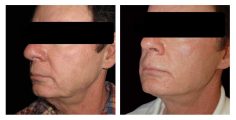 Dr. Anshu Gupta offers an alternative natural treatment to achieve the youthful appearance – facial fat grafting.
What Is a Facial Fat Grafting?
Fat transfer involves re-purposing your own fat to add volume and fill in lines/wrinkles on the face.
You may be a candidate for facial fat grafting if you:

Have facial lines/wrinkles/creases.
Scars or other depressions.
Facial areas that look sunken-in.
Age-related loss of volume.

Keep in mind that you must have excess fat in another area of your body (e.g., abdomen, love-handles) to use.
You should be at or close to your ideal weight, with a BMI less than 35.
The best candidates are non-smokers. Smoking increases the chance of complications including impairment in wound healing.
First, Dr. Gupta will harvest the excess fat from the donor area of the body. He will make several incisions and use liposuction techniques to remove the fat.
Dr. Gupta will purify and prepare the fat for re-injection. This includes removing the majority of blood and oil that are mixed into the fatty tissue. By nature of its design, the Puregraft system reduces the risk of contamination during this stage of the process.
Once the fat is ready for re-injection, Dr. Gupta will use thin needles to inject small amounts of fat into the areas of the face that need volume and fullness. This may include the lips, cheeks, hollows under the eyes or scars/other skin depressions or indentations.
The fat can also be used to fill in lines, wrinkles and creases, including laugh lines, smile lines or crow's feet.
Since not all of the fat will develop its own blood supply to survive, Dr. Gupta may over-inject the treatment area to compensate.
Incisions are very small and concealed in hidden areas, so any scarring will be unnoticeable.
Schedule a consultation and discuss the surgery in more detail