I can't say enough good things about Dr. Gupta and his team. As a healthcare worker, I strongly feel that, when looking for a good surgeon, you should always ask the surgical nurses who to go to. The nurses I work with all said that Dr. Gupta would be their first choice for a plastic surgeon.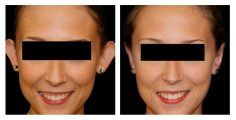 Otoplasty is a procedure to resize or reshape ears that are too large, misshapen or stick out from the head.
Suitable candidates for surgery are individuals that:

Are self-conscious of oversized, asymmetrical or protruding ears.
Have otherwise misshaped ears or deformities in the ears.
Are in good general health.
Understand the procedure and what to expect.
Have reasonable expectations of the outcome.

You should be at or close to your ideal weight, with a BMI less than 35.
The best candidates are non-smokers. Smoking increases the chance of complications including impairment in wound healing.
Otoplasty is generally performed on an outpatient basis at our office under local anesthesia (especially in adults).
Otoplasty in children may need to be performed in a surgery center or a hospital.
The surgical incisions will be made inside or behind the ear where it connects to the head.
From there, the procedural steps vary, depending on the specific problem being addressed, and the plan of correction.
If the ears stick out from the head, excess cartilage or tissue can be removed, and the ears can be "pinned" closer to the head.
If the ear is missing its normal folds, the ear cartilage can be re-shaped and stitched into place to create normal contours.
If the ears are too large in relation to the rest of the head, excess cartilage and skin can be removed.
Once the necessary surgical modifications have been made, the incisions are closed with sutures, and fluffy bandages are placed around the ears.
The surgical incisions will be made inside or behind the ear where it connects to the head.
Schedule a consultation and discuss the surgery in more detail