I can't say enough good things about Dr. Gupta and his team. As a healthcare worker, I strongly feel that, when looking for a good surgeon, you should always ask the surgical nurses who to go to. The nurses I work with all said that Dr. Gupta would be their first choice for a plastic surgeon.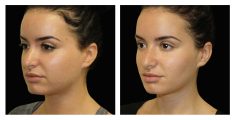 What Is a Buccal Fat Pad Removal?
Removes fat from your lower cheeks in order to contour the midface and create more defined cheek bones.
This surgery can help adults with the rounded baby face to achieve a more mature facial contour.
Those with chubby cheeks or a round appearing face not caused by being overweight
You should be at or close to your ideal weight, with a BMI less than 35.
The best candidates are non-smokers. Smoking increases the chance of complications including impairment in wound healing.
The inside cheek will be injected with numbing medication.
A small incision will be created inside the mouth along the cheek.
The fat pad will be dissected out using electrocautery.
Once the fat pad has been removed, dissolvable sutures will be used to close the incision.
No dressings are necessary on the incisions inside the mouth.
Incisions will be inside the mouth , so you will have no visible scarring.
Schedule a consultation and discuss the surgery in more detail