I can't say enough good things about Dr. Gupta and his team. As a healthcare worker, I strongly feel that, when looking for a good surgeon, you should always ask the surgical nurses who to go to. The nurses I work with all said that Dr. Gupta would be their first choice for a plastic surgeon.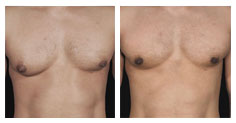 Gynecomastia is a term used to describe enlarged male breasts. It may be the result of hormone imbalance, certain medications or obesity.
There are varying grades of severity of gynecomastia as shown in the photo below:
What Causes Gynecomastia?
There are many underlying causes that can contribute to male breast formation, for that reason we request that you have a complete hormonal work-up performed by your primary care physician.
This helps to rule out other causes which would require alternative treatment to surgery.
Labs that should be performed prior to your surgical consultation include:

Serum total testosterone
Free testosterone and luteinizing hormone (LH)
Human chorionic gonadotropin
Serum estradiol
Liver function (LFTs)

These test results will help us rule out other medical conditions such as: drug use, cirrhosis, hypogonadism, tumors, hyperthyroidism, chronic kidney disease, or other rare causes.
Men with excessive glandular breast tissue.
You should be at or close to your ideal weight, with a BMI less than 35.
The best candidates are non-smokers. Smoking increases the chance of complications including nipple and skin death.
You have completed your Hormonal work up and have no underlying medical conditions contributing to gynecomastia.
You do not use recreational drug as they can also contribute to male breast development.
This is an outpatient surgery performed at either the hospital or a surgery center. You will be asleep, under general anesthesia.
Prior to surgery Dr Gupta will draw his incision on your chest according to his surgical plan.
Surgery will last 1-2 hours.
The excess breast tissue will be removed through either a peri-areolar or inframammary incision. Liposuction will also be performed utilizing the same incision to provide the optimum contour to the chest.
The incision will be closed in multiple layers.
1 surgical drain will be used per side.
Incisions and drains will be covered with waterproof dressings.
You will be placed in a compression vest and will continue to wear some compression on the chest for 4-6 weeks.
A peri-areolar incision is the most common, if there as excessive skin, skin excision may also be required resulting in an inverted T incision, or an incision under the breast.
Liposuction is also recommended to further contour the chest beyond simply removing the breast tissue. Liposuction can be performed utilizing the incision required for excision.
This varies widely depending on your individual insurance plan. Other factors that contribute including your height, weight, amount of breast tissue and lab results including hormonal levels. Liposuction is not covered by insurance.
Yes. Surgical drains will be required to prevent excess fluid accumulation in your newly shaped chest.
They typically stay in place 5-10 days depending on the fluid output.
Typically, the results are long term however weight gain, steroid use, drug use or hormonal fluctuations may lead to a recurrence.
Schedule a consultation and discuss the surgery in more detail