I can't say enough good things about Dr. Gupta and his team. As a healthcare worker, I strongly feel that, when looking for a good surgeon, you should always ask the surgical nurses who to go to. The nurses I work with all said that Dr. Gupta would be their first choice for a plastic surgeon.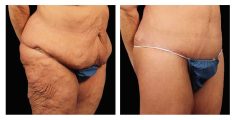 A body lift is a surgical procedure to remove excess skin and fat from the entire circumference of the midsection. This includes an abdominoplasty, removing hanging skin from the abdomen and a buttock lift, removing excess skin from the lower back and lifting the buttocks and an outer thigh lift.
You have lost a large amount of weight through bariatric surgery (such as gastric bypass or lap band surgery), diet and exercise or post pregnancy.
You have folds of loose/inelastic skin that is resistant to reduction even with diet or exercise.
Patients who are good candidates also are those who have a

Desire for a tighter, firmer body.
Sagging skin following an extreme loss in weight or bariatric surgery.
Hanging skin following extreme weight loss.
Discomfort from tucking excess skin into clothing.

You should be at or close to your ideal weight, with a BMI less than 35.
You should be at a stable weight for 6 months.
The best candidates are non-smokers. Smoking increases the chance of complications including impairment in wound healing.
Body lifts (Belt Lipectomy) involve lifting multiple areas of the body.
Our very skilled surgeon, Dr. Anshu Gupta, uses the most advanced techniques in body lifts to improve body appearance including recontouring of arms, thighs, buttocks, tummy tuck, back rolls and any other areas requiring attention. It removes skin and fat and the remaining skin is tightened.
The entire procedure may be done in one shot or may occur over several days. Staging will be done if it will improve results and minimize risks.
Although the results of a body lift are instant, the final results can only be fully appreciated once the swelling has faded.
The incision for a body lift will travel around your circumference along your low hips and just above the buttocks.
Schedule a consultation and discuss the surgery in more detail