I can't say enough good things about Dr. Gupta and his team. As a healthcare worker, I strongly feel that, when looking for a good surgeon, you should always ask the surgical nurses who to go to. The nurses I work with all said that Dr. Gupta would be their first choice for a plastic surgeon.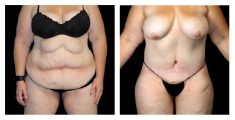 Call to inquire about our new "drainless" tummy tuck technique and "six-pack sculpting". The abdominal area is notoriously difficult to tighten and tone with diet and exercise alone. Complicating factors like pregnancy, aging and gravity can add to the challenge of maintaining an attractive midsection.
Many tummy tuck candidates are mothers that have noticed changes in their abdomen after pregnancy or individuals that have lost a significant amount of weight but have loose skin and sagging in the abdominal area.
However, you don't have to fit into either one of these categories to qualify for surgery. You may be a tummy tuck candidate if you:
Are physically and psychologically stable.
Do not have any chronic medical conditions.
Do not smoke.
Are at or close to your ideal weight.
Do not plan to become pregnant after surgery.
Understand the procedure and the possible risks.
Have reasonable goals of surgery.
If you believe you are a candidate for tummy tuck, schedule a consultation with Dr. Gupta. During your appointment, he will perform a physical examination of your midsection, noting the amount of excess skin/fat and the elasticity of your skin. He will want a complete picture of your health and any details about previous surgeries. When he determines you are a suitable candidate for surgery, he will outline a proposed treatment plan.
After scheduling your surgery date, you will receive valuable information for preparing for surgery and your recovery.
To begin, Dr. Gupta will make the surgical incisions horizontally along the lower abdomen, right above the pubic hairline. The incision will be placed low enough that any scarring can be concealed by underwear or a bathing suit bottom.
Through the incision, Dr. Gupta will remove excess fat (using liposuction techniques), glandular tissue and skin. He will repair abdominal muscles that have separated or weakened and stitch them into place using internal sutures. He may reposition the navel higher on the abdomen if needed. Dr. Gupta will then re-drape the skin more tightly over the abdomen and close the incisions with sutures. He may place a supportive garment to help the tissues conform to their new contours.
If desired, additional sutures are placed to anchor the skin and fat tissue to the muscular wall, thereby minimizing the need for drain placement. This drainless technique results in significantly easier recovery. Dr. Gupta enhances the results further by sculpting the fat under the skin to provide subtle appearance of a "six-pack" after the procedure, should the patient desire.
One common recovery-related concern amongst tummy tuck patients is the fear of having drains placed after surgery. With Dr. Gupta, this is not a concern; his approach does not include using drains.
Dr. Gupta will meet with you several times during your recovery to check your healing progress, answer your questions and let you know when to return to work, exercise and other normal activities.
After tummy tuck, the abdominal area will be bruised, sore and swollen. It will be challenging to move around a lot (bending, lifting and straining are prohibited) so it's best to get plenty of rest and relaxation. Short walks are good for circulation, but other than that, allow your body to heal at its own pace.
Learn More about Tummy Tuck
To learn more about tummy tuck and how it can improve your abdominal area, please contact Verve Plastic Surgery. Call (760) 436-7600 today and book an appointment with Dr. Gupta.
Schedule a consultation and discuss the surgery in more detail