I can't say enough good things about Dr. Gupta and his team. As a healthcare worker, I strongly feel that, when looking for a good surgeon, you should always ask the surgical nurses who to go to. The nurses I work with all said that Dr. Gupta would be their first choice for a plastic surgeon.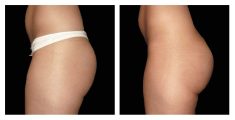 Buttock Augmentation with Implants
When you are unhappy with the shape and tone of your booty, buttock augmentation may be a good option to achieve a shapelier, uplifted butt, and that hourglass figure you envy. Buttock augmentation can enhance flat buttocks. Each patient receives a customized procedure based on his or her needs, goals and desires.
What Is a Buttock Augmentation?
A buttock augmentation is a surgical procedure designed to enhance your buttock curves and restore your hourglass figure using silicone implants or your own fat.
The procedure utilizing your own fat for buttock augmentation is commonly referred to a Brazilian Butt Lift or BBL.
Depending on what your ultimate goals are, Dr. Gupta will discuss which surgical option is best for you.
If you are unhappy with the shape and tone of your buttocks, buttock augmentation is a good option to achieve a shapelier, fuller, uplifted butt.
Butt augmentation is available for both men and women who have body image concerns such as a small, flat or sagging buttock, imbalances and asymmetries.
You should be at or close to your ideal weight, with a BMI less than 35.
The best candidates are non-smokers. Smoking increases the chance of complications including impairment in wound healing.
This is an outpatient surgery performed at either the hospital or a surgery center. You will be asleep, under general anesthesia.
Prior to surgery, Dr. Gupta will draw his incision on your buttocks according to his surgical plan.
Surgery time varies depending on breast size and shape, goal size and if additional procedures will be performed at the same time. The average duration is between 2.5-3.5h.
The incision for the implant will be in the center crease of the buttocks (intergluteal).
After the incision has been made, Dr. Gupta will create a surgical pocket to place the implant.
Traditionally, this pocket can be created above or under the gluteus maximum muscle. Dr. Gupta uses an advance technique and creates the pocket inside the muscle. This approach is more challenging, but it is the safer approach and provides more natural-looking and longer-lasting results.

Intermuscular placement also ensures that the implant is very well concealed. With this approach, the implant will not be palpable, and no demarcation will be visible. This also provides the lowest likelihood of the implant moving or shifting from its ideal position.

Through the incision, he will then insert a soft, shaped silicone implant and position it carefully.
Dr. Gupta will close the incisions in multiple layers with sutures.
You will have drainage tubes under the skin for a few days, to remove excess fluids. These will be removed during your post-op appointment. Drain tubes may remain in place for about 2 weeks.
Continue wearing the surgical compression garment at all times. This is very important to promote a comfortable post-op period. The compression garment will reduce swelling and ensure optimal results.
DO NOT PLACE PRESSURE ON THE BUTTOCKS. This can cause changes in the placement of the implant.
The incision for the implant will be in the center crease of the buttocks (intergluteal).
The implants used for gluteal augmentation are made from firm silicone; there is no gel like substance inside as there are with silicone breast implants.
The implants come in a variety of contour and projections.
These implants do not need to be replaced every 10 years like breast implants.
Schedule a consultation and discuss the surgery in more detail