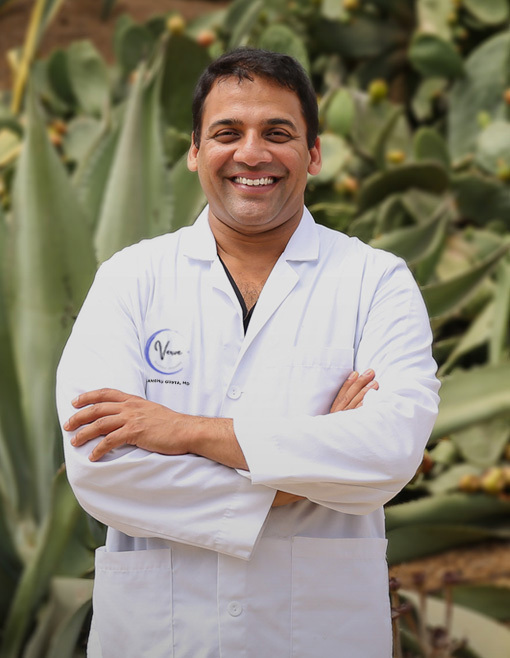 Double Board-Certified Plastic Surgeon
Dr. Anshu Gupta is a founder and director of the premier medical practice, Verve Plastic Surgery. Blending art and creativity with intuition and extensive surgical experience, Dr. Gupta has earned a highly distinguished reputation amongst his peers and his loyal patients. Dr. Anshu Gupta is steadfast in his personal and professional dedication to providing the best and most compassionate care for his patients.
Brief info about early career
After finishing his trainings and certifications in general surgery as well as plastic surgery, Dr. Gupta started private practice in 2009. In his early days, Dr. Gupta devoted himself to give back to the community, providing complex repairs after hand, facial trauma or cancer defect reconstructions. Dr Gupta worked tirelessly to ensure that the patients received the most appropriate procedure for their care, no matter what the complexity was. Today he continues the same philosophy in aesthetic surgery.
Verve PS was founded in 2009
We have grown continuously. We are proud of the fact that we have barely ever advertised in the last 10 years and yet we have been able to be busy and continuously growing practice 11 years in a row. We thank our patients for their kind word of mouth and to other medical professionals who continue to have faith in us and refer patients here.
Extensive training off a full array of cosmetic services
Dr. Gupta's vast training and his desire to offer all cutting-edge procedures to his patients result in Verve Plastic Surgery providing a complete and diverse menu of cosmetic services. Verve Plastic Surgery has been proudly serving San Diego, La Jolla, Del Mar, Solana Beach, Encinitas, Carlsbad, and Oceanside areas. We are also proud to have patients flying for our services from different states and different countries.
Dr. Gupta is double board certified in General Surgery and Plastic & Reconstructive Surgery.
Many patients don't realize that Plastic Surgeons and Cosmetic Surgeons are not interchangeable terms. Plastic Surgeons, who are board certified, have much more extensive training than cosmetic surgeons.
It is extremely important for patients to do a sample research before selecting your provider. Patient safety is our top priority, and we want to ensure you are selecting a surgeon who can safely perform the ideal procedure for you.
Dr. Gupta is a member of the American Society of Plastic Surgeons, the American Medical Association and the San Diego County Medical Society.
Newest Techniques & latest technology
Dr. Gupta stays up to date with the newest research in order to implement the most advanced techniques when designing your surgical plan. This allows us to optimize each patients' individual results.
Dr. Gupta has authored 13 research papers on topics including gene therapy for cancer, general surgery and plastic and reconstructive surgery.
Verve Plastic Surgery is involved in a national study evaluating the safety of Breast Implants. This study focuses on patient experienced symptoms and satisfaction with their breast implants for 10 years.
Dr. Gupta has presented many lectures to various groups including

Educational lectures to cosmetic tattoo artists explaining the various stages of breast reconstruction. This helps them better understand the patients' experience and mindset once they reach their final stage of reconstruction, areola tattoos.
Educations lectures on utilization of AirXpanders as up and coming technology for breast reconstruction.
Lectures on advanced breast reconstruction procedures including DIEP flap.

Dr. Gupta has current active involvement in product development for special materials used for the newest techniques in breast reconstruction. In addition, he has visited Implant & dermal graft facilities to obtain even deeper understanding of material used commonly in surgery.
He has been an essential in Research and Development of Puregraft, fat grafting system. He has participated in research studies which analyze stem cells from fat harvestation.

Wide array of procedures offered

1400 +
FACE
Over 1400 cases performed, including Facelifts, Eyelid surgeries, Brow lifts, Rhinoplasties, Cheek, and chin implants, Otoplasty (Ear pinning), Neck liposuction and complex complete face reconstructions for cancer or trauma.

3000 +
BREAST
Over 3000 cases performed, including breast augmentations, breast lifts, breast reductions, En-Bloc implant and capsule removals, advanced breast reconstructions, Capsular contracture and implant rupture revisions etc.

1500 +
BODY
Over 1500 cases performed, including Liposuction, Tummy Tuck, Mommy makeovers (very common procedure at our practice), Thigh lifts, Arm lifts, Gluteal augmentation with implants, Brazilian buttock lift, 360º body lift etc.
Dr. Gupta's humble nature allows him to share the unique skills that he has obtained in his career. It is rewarding for him to be able to use his talents in order to help others in need.
He has provided pro bono services for women who have suffered injuries as a result of domestic abuse & participated in mission trips to El Salvador, where his surgical skills were utilized to help children with congenital deformities and burn injuries.
At the beginning of his journey, Dr. Gupta graduated from one of the top Medical Schools in India. After finishing medical school, Dr. Gupta spent a few years in the research field, working in San Diego on gene therapy for cancer. He published papers in the top journals and received international awards for his research as well. He started a General Surgery residency at Kern Medical Center (one of the satellite programs of UCSD). Today that training still helps him to be at ease around deeper complex structures of human anatomy. He then further specialized into plastic surgery.
Dr. Gupta trained in plastic surgery at Indiana University, with additional education at the world-renowned Mayo Clinic in Rochester, Minnesota.
At these institutions, Dr. Gupta had the opportunity to train with over 20 general plastic and facial plastic surgeons. Many of them pioneers in their field.
Dr. Gupta specializes in aesthetic plastic surgery in addition to reconstructive surgery for cancer, including microsurgery and advanced breast reconstructions.
Have a specific question you want to ask Dr. Gupta?
for monthly Q&A sessions; include Instagram handle
Schedule a consultation and discuss the surgery in more detail