I can't say enough good things about Dr. Gupta and his team. As a healthcare worker, I strongly feel that, when looking for a good surgeon, you should always ask the surgical nurses who to go to. The nurses I work with all said that Dr. Gupta would be their first choice for a plastic surgeon.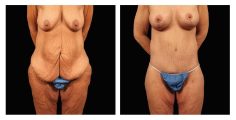 Post Weight Loss Body Contouring
What is Post Weight Loss Body Contouring?
This is a general term used to describe multiple procedures that will be needed to sculpt and tailor loose and hanging skin after you have lost significant weight.
This doesn't describe one single procedure, rather the process to accomplish your goal physique.
Many patients undergo a combination of procedures such as: abdominoplasty, breast lift, thigh lift, buttock lift, arm lift, facelift, & liposuction. Your procedures will be customized to you to achieve your desired results.
You have lost a large amount of weight through bariatric surgery (such as gastric bypass or lap band surgery), diet and exercise or post pregnancy.
You have folds of loose/inelastic skin that is resistant to reduction even with diet or exercise.
You are unhappy with sagging skin in multiple areas, including the abdomen, back, thighs, arms, breasts, face and neck. This skin could cause painful chafing/rashes, make it difficult to fit into clothing and affect self-esteem and confidence.
Patients who are good candidates also are those who have a

Desire for a tighter, firmer body.
Sagging skin following an extreme loss in weight or bariatric surgery.
Hanging skin following extreme weight loss.
Discomfort from tucking excess skin into clothing.

You should be at or close to your ideal weight, with a BMI less than 35.
You should be at a stable weight for 6 months.
The best candidates are non-smokers. Smoking increases the chance of complications including impairment in wound healing.
You should be in good health.
You need to be dedicated to enduring the entire process. Often full body contouring occurs over multiple surgeries spaced 3-6 months apart. It takes mental and physical dedication and determination to remain committed to the entire process, but we promise, in the end it will be worth it.
Every patient has different needs and a specific idea of how they would like to look after surgery. Based on your case, your post-bariatric body contouring treatment plan could include any of the following:
Lower body lift
Tightens loose skin around the lower body to reshape the abdomen, outer thighs, buttocks and hips. The procedure is performed through an incision around the back of the hips to the front of the thighs.
Arm lift
Removes excess skin and fat for a slimmer and more toned upper arm contour. Arm lift is performed through an incision placed on the inside or back of the arm.
Inner thigh lift
Removes extra skin and fat for leaner and more proportional-looking thighs. The surgical incisions are made on the inner, upper thigh (or in the groin crease).
Breast lift
Removes excess skin and reshapes the breast mound higher on the chest wall. Some women opt to combine breast lift with breast augmentation for larger breasts or breast reduction for smaller breasts.
Abdominoplasty
Removes excess skin from the lower abdomen and repairs weakened/separated muscles to create a flatter abdominal profile. The incision is made right above the pubic hairline and runs from hipbone to hipbone.
Liposuction
Used to improve contour and fat reduction in stubborn areas despite diet and exercise.
Facelift
Used to remove excess skin along the neck and jowls that is common after large amounts of weight loss.
The incision will vary depending on the procedures you will undergo and what your desired end result will be.
Make sure to discuss your desired end results with Dr. Gupta as often certain procedures are combined at the same time and incisions can be used for multiple purposes.
Schedule a consultation and discuss the surgery in more detail