I can't say enough good things about Dr. Gupta and his team. As a healthcare worker, I strongly feel that, when looking for a good surgeon, you should always ask the surgical nurses who to go to. The nurses I work with all said that Dr. Gupta would be their first choice for a plastic surgeon.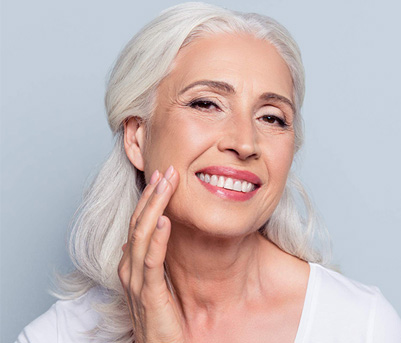 Dermal fillers are injectable products used to restore youthful shape and volume to areas of the face that are lacking
Many are made from hyaluronic acid, a naturally occurring component in your body. These fillers are gel type substances that, depending on the area treated, may help to lift, fill or mold your tissue.
The types of filler that we recommend for you is based on your treatment goals. For example, if you want to enhance your cupid's bow or increase the volume of your lips, Restylane Kysse would be a perfect choice. It provides soft structure which remains soft and supple in the lips.
If you want to define the contours of your chin or jawline, Radiesse may be a good choice for you. It can lift and sculpt the tissue as well as stimulate your own collagen production.
If your cheeks have lost their youthful round quality or you are looking for model-esque cheekbones, then Restylane Lyft would be a perfect option.
Like Botox, the results of dermal fillers are temporary. Depending on the filler used, the effects may last anywhere between 9 and 24 months. Repeat treatments are recommended to maintain the effects.
Pricing
$675 – $800
/syringe
depending on the product
Multi syringe discounts offered
More infomation
Most Common Areas Treated & Average Dosing:
(some patients may require more or less based off provider assessment)
Post-treatment Instructions:
Bruising and swelling will be worse for the first 24-48 hours after you receive your dermal filler injections. You may want to refrain from going to any special events during this time.
The most common reactions after fillers are redness, swelling, bruising and tenderness. These usually subside a few days after the treatment but can last up to a week. If any of these symptoms persist longer than a week, or if you develop other symptoms, please contact our office for advice.
Cold compresses may be used after the treatment to reduce swelling and decrease soreness. You may take Tylenol every 4-6 hours after the treatment to help with any discomfort you may have.
Make-up may be applied 2-3 hours after treatment, if no complications are present, such as wounds, bleeding or redness of the area.
Avoid excessive touching or massaging the treated areas for about 6 hours after the injections. The treated areas can be washed with a gentle cleanser or a mild soap.
Gentle massage of the lips after injection can help the product settle. Most other areas do not need any massage.
Please understand that your satisfaction is the most important thing for us. We would like you to return to the office in 2 weeks to see if a touch-up is needed in the facial sculpting process. Remember this procedure is fine-tuned toward the look you want to achieve and is not an exact science.
Schedule a consultation and discuss the surgery in more detail