I can't say enough good things about Dr. Gupta and his team. As a healthcare worker, I strongly feel that, when looking for a good surgeon, you should always ask the surgical nurses who to go to. The nurses I work with all said that Dr. Gupta would be their first choice for a plastic surgeon.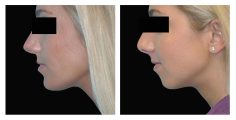 Chin augmentation is designed to enhance the contours of the facial features. To accomplish this, the facial plastic surgeon may use artificial implants or the patient's own bones or fat. Chin augmentation is suited to individuals that want a stronger and more prominent chin.
A chin implant is a solid silicone implants that are designed to lay on the jawbone and give added projection and improved contour.
Who Is a Good Candidate for a Chin Implant?
Candidates for chin augmentation typically have a weak or receding chin. The procedure will elongate or enhance the chin so it balances out the rest of the face, including the nose.
If you have tried non-surgical dermal fillers to restore volume in your cheeks but are still unhappy with your results.
You should be at or close to your ideal weight, with a BMI less than 35.
The best candidates are non-smokers. Smoking increases the chance of complications including impairment in wound healing.
Chin augmentation can be performed one of two ways. The first option is to build up the chin using an artificial implant. An incision will be made either inside the mouth or underneath the chin. A small pocket will be created in front of the chin bone, and the implant will be placed inside.
The second option is to move/reshape the patient's own chin bones to create better definition in the chin. The incision will be made inside the mouth along the lower gum. Through the incision, the jawbone will be cut, moved forward and wired or screwed into place.
The incisions will be inside the mouth. There will be no visible scars.
Downtime is minimal. Most patients can return to their normal activities after 1-2 weeks.
The incisions will be inside the mouth. Avoid eating spicy or crunchy foods for 1 week after your surgery to avoid irritating the new incisions.
Depending on the overall contour of the lower face often surgical procedure such as neck liposuction or a buccal fat pad removal are used to further contour the lower face.
Rhinoplasty is commonly added to improve the overall profile.
Patients often add non-surgical facial rejuvenation such as Dermal fillers to contour the cheeks or micro needling + PRP to give their skin a completely refreshed appearance.
Schedule a consultation and discuss the surgery in more detail