I can't say enough good things about Dr. Gupta and his team. As a healthcare worker, I strongly feel that, when looking for a good surgeon, you should always ask the surgical nurses who to go to. The nurses I work with all said that Dr. Gupta would be their first choice for a plastic surgeon.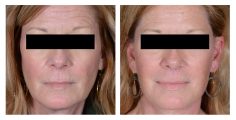 Brow lift, also known as forehead lift, is a procedure to raise a saggy/droopy brow line and smooth wrinkles between the eyebrows and on the forehead. This produces a more alert and attractive facial expression.
You may be a suitable candidate for brow lift if you have a naturally saggy or droopy brow line that sits close to your eyes and/or have frown lines (i.e., deep furrows between your eyebrows).
You should be at or close to your ideal weight, with a BMI less than 35.
The best candidates are non-smokers. Smoking increases the chance of complications including impairment in wound healing.
Brow lift is typically performed on an outpatient basis at a surgical center or a hospital. Anesthesia is administered so you remain comfortable during the procedure.
In most cases, the brow line incisions are made behind the hairline to conceal any scarring.
Through the incisions, the forehead skin is lifted and repositioned, and the muscles that cause frown lines are weakened.
Wrinkled forehead tissue is also smoothed for a tighter and more youthful result.
Finally, the incisions are closed with small sutures and the area is bandaged.
Depending on how your eye area has aged, you might want to combine brow lift with another facial plastic procedure. For example, if your eyelids have thin, crepe paper-like skin that droops over the upper lids or causes puffiness under the lower lids, eyelid surgery (blepharoplasty) may be beneficial.
You will have 2 1-inch incisions hidden in the hairline centered over each eyebrow.
Most patients can return to their normal activities after 2 weeks. It will be 6 weeks before resuming all exercise.
The incisions will be hidden in the hairline above the forehead.
For a more comprehensive rejuvenation, your browlift can be combined with an upper and lower eyelid lift, a facelift or facial fat grafting.
Patients often add non-surgical facial rejuvenation such as Botox and microneedling + PRP to complete their look.
Schedule a consultation and discuss the surgery in more detail