I can't say enough good things about Dr. Gupta and his team. As a healthcare worker, I strongly feel that, when looking for a good surgeon, you should always ask the surgical nurses who to go to. The nurses I work with all said that Dr. Gupta would be their first choice for a plastic surgeon.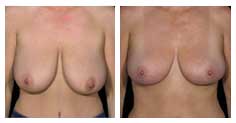 A breast lift includes lifting and reshaping the breast to create an optimum round full breast shape.
If you are looking to restore your previous perky breast shape, if you have lost volume after breast feeding, weight loss or over time.
You should be at or close to your ideal weight, with a BMI less than 35.
The best candidates are non-smokers. Smoking increases the chance of complications including nipple and skin death.
You are no longer planning on breast feeding.
This is an outpatient surgery performed at either the hospital or a surgery center. You will be asleep, under general anesthesia.
Prior to surgery Dr. Gupta will draw his incision on your breasts according to his surgical plan. This will outline the amount of skin to be removed as well as the new nipple and areola position.
The remaining tissue will be carefully sculpted in order to create a full round breast shape.
Surgery time varies depending on breast size and shape, goal size and if additional procedures will be performed at the same time. The average duration is between 1.5h – 2.5h.
The tissue will be closed in multiple layers, ensure there is strong internal support and proper wound closure.
Incisions will be covered with waterproof dressings. You may or may not, required a surgical drain, depending on if additional procedures are performed at the same time as your mastopexy.
You will be placed in a compression bra and will continue to wear some compression on the breasts for 6 weeks.
Depending on the extent of the lift different incision may be required. At your consultation we will discuss which is best suited to meet your goals.
The first and most common incision is the anchor shaped incision
This incision allows for maximum lifting and slimming of the breast.
The second incision is a Lolli pop shaped incision
This incision decreases the width of the breast and lifts the nipple and areola position
The third incision is a Donut shaped incision
This incision decreases the width of the breast and lifts the nipple and areola position. The benefit of this incision is that is results in the most minimal scar
Schedule a consultation and discuss the surgery in more detail