I can't say enough good things about Dr. Gupta and his team. As a healthcare worker, I strongly feel that, when looking for a good surgeon, you should always ask the surgical nurses who to go to. The nurses I work with all said that Dr. Gupta would be their first choice for a plastic surgeon.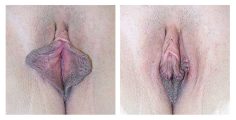 A surgical procedure which removes excess tissue from the labia minora.
You may be considered a good labiaplasty candidate if you:

Have large and/or uneven vaginal lips from aging or genetics.
Have stretched out vaginal lips from childbirth or weight loss.
Are self-conscious about your vulvar appearance.
Experience discomfort during intercourse, exercise or while wearing tight clothing.

You should be at or close to your ideal weight, with a BMI less than 35.
The best candidates are non-smokers. Smoking increases the chance of complications including impairment in wound healing.
This is an outpatient surgery performed at a surgery center or hospital under general anesthesia.
The surgery typically lasts about 2 hours.
During the surgery excess skin and tissue will be removed from the inner or outer labia.
The incisions will be closed with dissolvable sutures.
The incisions will be along the labia minora where the excess tissue is removed.
No. Labiaplasty does not leave visible scars, they are concealed in the natural creases of the skin.
Schedule a consultation and discuss the surgery in more detail