I can't say enough good things about Dr. Gupta and his team. As a healthcare worker, I strongly feel that, when looking for a good surgeon, you should always ask the surgical nurses who to go to. The nurses I work with all said that Dr. Gupta would be their first choice for a plastic surgeon.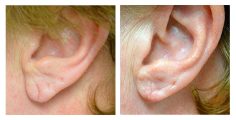 What Is an Ear Lobe Repair?
Ear lobe repair helps to fix any stretching of the ear. This is common in women who have worn heavy earrings for many years or for people who have intentionally stretched their ear lobe and would like it restored.
A person with a stretched ear lobe and cannot wear an earring.
This is a quick procedure which takes place in the office using local anesthetic.
The ear lobes are injected and from then on the procedure is completely pain free.
Dr. Gupta will cut and reposition the remaining portion of the ear lobe. This will repair the stretched out appearance.
The ear incisions will be covered with antibiotic ointment, gauze and some sutures will hold the skin closed.
The incisions will be as discrete as possible along the central lobe of the ear, where you typically wear your earrings.
4-5 weeks after the ear lobe repair, we will place your simple post earrings. It is recommended to leave those for 2-3 weeks prior to exchanging them for a new pair of earrings.
Schedule a consultation and discuss the surgery in more detail