I can't say enough good things about Dr. Gupta and his team. As a healthcare worker, I strongly feel that, when looking for a good surgeon, you should always ask the surgical nurses who to go to. The nurses I work with all said that Dr. Gupta would be their first choice for a plastic surgeon.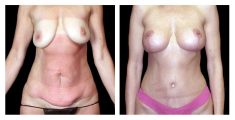 A mommy makeover is a term that refers to a personalized combination of plastic surgery procedures performed together to restore and enhance your post-pregnancy physique. Each procedure is tailored to your needs, and no two mommy makeovers are alike.
What Is a Mommy Makeover?
Mommy makeover treatment plans typically include any combination of the following breast and body procedures:
Your mommy makeover treatment plan will be carefully planned out to ensure that it meets your unique needs and goals. No two mommy makeovers are alike.
Why Get a Mommy Makeover?
Pregnancy stretches your abdominal muscles, skin and tissue to accommodate a growing baby. When you are finished having children, you may be left with loose skin and excess fat that will not respond to diet and exercise. Breasts may be deflated or sag.
Pregnancy and breastfeeding take a physical toll on your body, especially the breasts and abdominal area. A mommy makeover is a great way to restore your pre-baby curves.
Mommy makeovers are customized to each individual patient depending on their concerns and desired results. Depending on the procedure performed, surgery time may vary between 3-6 hours. Recovery may vary from 3-6 weeks.
To learn more about each individual option click the link below:
Abdominoplasty Incision
a horizontal incision is made in the low belly near the pubic area (or prior C-section scar if applicable). The length of the incision depends on the amount of skin that needs to be removed. A new opening will be made for the belly button. You will have a circular scar along the belly button.
Breast Augmentation Incision
A small and discrete incision is created in the breast crease. This is the most commonly used incision as it allows for no-touch placement of the implant with the lowest incident of capsular contracture.
Breast Lift or Reduction Incision
Typically an anchor shaped incision is necessary to lift, reduce and reposition the breast tissue to achieve a nice and full breast. This incision will go around the areola, a vertical incision from the areola to the breast crease and an incision in the breast crease.
Liposuction
Small, 1 centimeter incisions are used to perform liposuction. The exact location of the incision will depend on the area of liposuction. We will hide these small incisions in the most discrete area as possible.
Brazilian Butt Lift
Fat is collected during liposuction and can be injected into the buttocks for added fullness and improved shape. The incision for fat injections is very small, less than 1 centimeter, typically 2-3 are needed per side to allow for the fat to be distributed appropriately.
The length of time you will need to heal and recover from an abdominoplasty depends on the extent of the procedure, and whether it is combined with another procedure. Other factors that affect healing time are your age, health and weight.
Everyone is different in the amount of time it takes for them to recover, so numbers provided are only "ballpark" numbers. Typically, it will take up to six weeks to fully recover from a tummy tuck and liposuction; and up to nine months to see final results.
Schedule a consultation and discuss the surgery in more detail