I can't say enough good things about Dr. Gupta and his team. As a healthcare worker, I strongly feel that, when looking for a good surgeon, you should always ask the surgical nurses who to go to. The nurses I work with all said that Dr. Gupta would be their first choice for a plastic surgeon.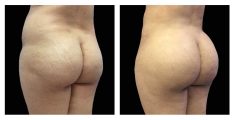 Brazilian Butt Lift (BBL)
What Is a Brazilian Butt Lift?
Brazilian butt lift uses your own fat to enhance the size and shape of your butt.
Liposuction is performed to remove fat from other areas of your body (often stomach, hips, thighs, love- handles).
The fat removed is filtered, cleaned, and then injected into the buttocks to provide a fuller and more desirable contour.
The Brazilian butt lift is advantageous for several reasons. First, it is natural and does not involve placing an artificial implant into the body. This natural approach eliminates the risk of the body rejecting the implant and other complications. Secondly, the donor fat area is liposuctioned and looks slimmer after the procedure which will also help enhance your new shape.
If you are unhappy with a small or poorly defined buttocks, and desire a more balanced look.
You need excess fat in order to harvest and inject into the buttock. If your BMI is too low, you may not have adequate fat supply for this procedure. If this is the cause buttock augmentation with implants may be a better option for you.
You should be at or close to your ideal weight, with a BMI less than 35
The best candidates are non-smokers. Smoking increases the chance of complications including impairment in wound healing
This is an outpatient surgery performed under general anesthesia.
You will see Dr. Gupta prior to surgery, and he will make some marks on your body for his surgical plan
Liposuction will be used to remove surplus fat from the desired areas: this is commonly the abdomen, hips or thighs.
The fat will be purified and prepared for injections, using the Puregraft system, to maximize the fat's survival for longer-lasting results.
Fat is injected into the buttocks, concentrating on the upper quadrant to give the buttocks a "lifted" effect.
You will wake up with a special compression garment on. Continue always wearing the surgical compression garment. This is very important to promote a comfortable post-op period. The compression garment will reduce swelling and ensure optimal results.
DO NOT PLACE PRESSURE ON THE BUTTOCKS
DO NOT ICE THE BUTTOCKS.

This will cause the newly placed fat to die.
You may ice the areas that liposuction was performed.
The incision for liposuction and fat injections are very small, 1centimeter or less. Depending on the number of areas liposuction is performed there will be multiple small 1cm incisions
Schedule a consultation and discuss the surgery in more detail