I can't say enough good things about Dr. Gupta and his team. As a healthcare worker, I strongly feel that, when looking for a good surgeon, you should always ask the surgical nurses who to go to. The nurses I work with all said that Dr. Gupta would be their first choice for a plastic surgeon.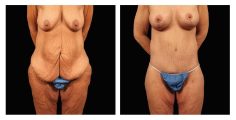 Will vary widely depending on the procedures performed at each surgery.
When you combine multiple procedures, we often recommend an overnight stay at the hospital or surgical facility to ensure you have a safe recovery.
Recovery for combined procedure will often require 4-6 weeks off work, however, depending on your job requirements this may vary as well.
Supportive garments will be key to a comfortable recovery and enhanced results.
We recommend supportive pillows, positioning wedges, shower chairs, and other accessories as you heal, this will allow you to recover in the most comfortable ways possible.
You will be provided specific recovery expectations to coincide with your exact procedures.
The overall process of full body contouring can take 9-12 months depending on the number of surgeries that will be performed.
Schedule a consultation and discuss the surgery in more detail