I can't say enough good things about Dr. Gupta and his team. As a healthcare worker, I strongly feel that, when looking for a good surgeon, you should always ask the surgical nurses who to go to. The nurses I work with all said that Dr. Gupta would be their first choice for a plastic surgeon.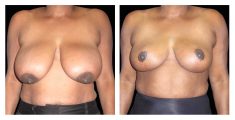 What Is a Breast Reduction?
A breast reduction involves removing excess breast tissue and skin to lessen the stress and weight on the neck, shoulders and back caused by heavy breasts. A breast reduction includes lifting and reshaping the breast to create an optimum round full breast shape. This helps many patients balance out the proportions of their figure and alleviate back and neck pain caused by heavy breast tissue. It can help improve your confidence and make it easier to find clothing that fits. Breast reduction has one of the highest patients reported satisfaction ratings.
You should be at or close to your ideal weight, with a BMI less than 35. Check your BMI below.
The best candidates are non-smokers. Smoking increases the chance of complications including nipple and skin death.
You are no longer planning on breast feeding.
If you are suffering from physical or psychological symptoms related to large breasts including

Back, neck or shoulder pain.
Indentations in the shoulders from bra straps.
Poor posture.
Limitations on exercise of physical activity.
Trouble finding clothing that fits.
This is an outpatient surgery. You will go home the same day.
An anchor-shaped incision will be drawn on the breast. This will outline the amount of skin and tissue to be removed as well as the new nipple and areola position.
Breast tissue and skin will be removed during surgery that correlates with your desired reduction in cup size.
The remaining tissue will be carefully sculpted in order to create a full round breast shape.
The tissue will be closed in multiple layers, ensure there is strong internal support and proper wound closure.
The incision will be covered with dressings and you will wake up wearing a surgical bra.
Surgery time varies depending on breast size, goal size and if additional procedures will be performed at the same time. The average length of surgery is between 2.5-3.5hrs.
The most common procedures performed at the time include

Liposuction of the lateral chest – this helps to slim the sides of the chest after breast reduction which can appear more prominent now that the breasts are lifted and in proportionate with the rest of the body.
Galatea Mesh placement – Galatea mesh is an absorbable mesh which acts as an internal bra to further support the weight of the breast tissue. This helps to extend the life of the breast reduction even longer. Patients report improved fullness of the upper breasts. This mesh dissolves after approximately 2 years and scar tissue forms in its place.
Typically, an anchor shaped incision is necessary to lift, reduce and reposition the breast tissue to create the optimum shape. Skin and excess tissues will be removed.
Patient quote Yelp (Lisa G)
Dr. Gupta and his entire staff are absolutely amazing! So kind caring and professional. I had some procedures done and Dr. Gupta listened to exactly what I wanted. I left feeling that my results were amazing! I had Blephroplasty and a breast reduction! I highly recommend Dr. Gupta's services if you are looking to have cosmetic surgery done!
Patients in San Diego are fortunate to have access to Dr. Anshu Gupta and his expertise. His experience, artistry and superior surgical skills will provide you with a smaller, lighter, lifted and full breast that is proportionate with your body. You will learn how our innovative techniques will help reduce the post-operative pain and make the recovery as easy as possible.
It is well established that patients who have aesthetic interventions experience better mood, self-esteem and self-confidence. A breast reduction will make you feel better about yourself.
Thinking about it? Call Verve Plastic Surgery in Solana Beach, CA today.
Schedule a consultation and discuss the surgery in more detail