I can't say enough good things about Dr. Gupta and his team. As a healthcare worker, I strongly feel that, when looking for a good surgeon, you should always ask the surgical nurses who to go to. The nurses I work with all said that Dr. Gupta would be their first choice for a plastic surgeon.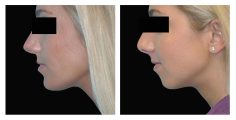 Downtime is minimal. Most patients can return to their normal activities after 1-2 weeks.
The incisions will be inside the mouth. Avoid eating spicy or crunchy foods for 1 week after your surgery to avoid irritating the new incisions.
Depending on the overall contour of the lower face often surgical procedure such as neck liposuction or a buccal fat pad removal are used to further contour the lower face.
Rhinoplasty is commonly added to improve the overall profile.
Patients often add non-surgical facial rejuvenation such as Dermal fillers to contour the cheeks or micro needling + PRP to give their skin a completely refreshed appearance.
Schedule a consultation and discuss the surgery in more detail