I can't say enough good things about Dr. Gupta and his team. As a healthcare worker, I strongly feel that, when looking for a good surgeon, you should always ask the surgical nurses who to go to. The nurses I work with all said that Dr. Gupta would be their first choice for a plastic surgeon.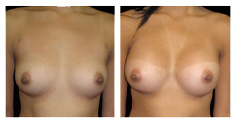 2-3 days: Pre-Op
Pick up post op medications from your local pharmacy
D 0 = Surgery Day
You will see Dr. Gupta prior to surgery to ask any last-minute questions – he will draw his surgical plan on you including where the incisions will be made
Surgery duration is about 1 hour. This is an outpatient surgery. You will go home the same day
You will wake up with a special recovery bra. Continue to wear this at all times except when showering.
D 1-3
The implants will feel high on the chest, it takes a few weeks for them to settle.
You will be sore and swollen however you will be able to independently do your daily household activities that do not require heavy lifting.
You do not have any restrictions in your arm movement but avoid heavy or jerking movements.
Continue wearing your recovery bra
Ice the breast to help reduce swelling and recover faster
D 5-6: Office evaluation
We will evaluate you in the office and remove your dressing
Continue supportive bra at all times, except showering.
Many patients return to work at this time depending on their job requirements
Weeks 2-3
Sutures will be removed in the office. We do not use dissolving sutures in order to minimize your scaring.
Implants continue to settle into the appropriate position.
We will discuss massage to the breast if recommended/advised by your provider.
Start scar treatment – we will provide a specially formulated scar cream to you.
Week 6
Most of the swelling will have subsided and your implants will feel soft.
You may resume regular exercise
At this stage you will be allowed to submerge underwater. You may resume swimming, bath tub, ocean, etc.
Month 3-6
Your final results are achieved.
You may notice very minor changes from months 3-6
Final maintenance recommendations will be provided, and we are always available for further questions or concerns
Schedule a consultation and discuss the surgery in more detail